Deaver Vineyards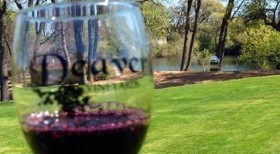 Pin to Your Trip
Pinning to your trip...
Success!
Region
Grape-growing has been our family tradition for 150 years. We offer a wide selection of award-winning wines and ports, beautifully landscaped picnic grounds, and complimentary tasting daily from 10:30 am - 5:00 pm. In addition, our extensive gift shop features wine-related merchandise, home furnishings, gourmet food items, clothing and apparel. Visit our website for a list of upcoming events, new wine releases and current happenings at the winery.
Address
12455 Steiner Road
Plymouth, CA 95669
Phone: (209) 245-4099
Visit Us Online
Location updated: 12/20/2015
Amador Local Attractions
Daffodil Hill
Volcano
150 years of Daffodils, café, picnicking.
209-296-7048