Andis Wines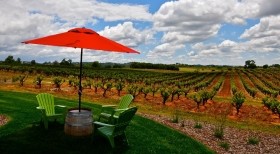 Pin to Your Trip
Pinning to your trip...
Success!
Region
Andis Wines is a modern boutique winery located in the Shenandoah Valley of historic Amador County. Producing wines from our 25 acre Estate vineyard as well as some of the finest vineyards in the Sierra Foothills, we combine traditional and innovative winemaking approaches to make wines that are interesting and delicious. All of our fruit is hand sorted and fermented in small lots to promote complexity, diversity of style, and varietal correctness. This approach allows us to produce wines of grace, character, and distinction. Our beautiful tasting room has some of the best views around with ample picnic area to spend time with friends and family. Our contemporary design, gracious staff, and commitment to making superior wines, make Andis a unique and pleasurable wine tasting experience.
Address
11000 Shenandoah Road
Plymouth, CA 95669
Phone: (209) 245-6177
Connect With Us
Visit Us Online
Location updated: 10/19/2017
Amador Local Attractions
Daffodil Hill
Volcano
150 years of Daffodils, café, picnicking.
209-296-7048
Sutter Creek
Classic Gold Rush town with art, shopping, fine dining. 209-267-1344
www.suttercreek.org